Four bedroom townhouse for sale at East Legon Hills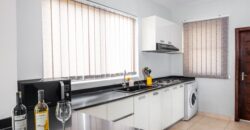 Description
Light up those magical moonlit evenings on your coveted rooftop space, cocking off bottles, refilling glasses, and toasting to life.
Gather the family over on top and share those intimate moments under wraps, away from the distraction of TV screens. Grab far-reaching views of town, of the expanding East Legon Hills, from your base on top while enjoying the refreshingly cool evening breeze.
The options are unlimited in this majestic home at East Legon Hills, Accra.
Get cozy in this carefully-designed four-bedroom townhouse that gives you tons of entertainment options.
Throwing a birthday party for your kids? Inviting a couple of friends over for an after-event celebration? No need to sweat over guests spilling Coke on your tiles. Take them to the rooftop for some nighttime magic.
If you have a large family, count on this 4-bedroom unit at Araba's Court for all your space needs. It's built to take you into the future.
Property ID

5676

Price

Ghana Cedis

$3,353,400
Property Type

Townhouse

Property status

For Sale
Similar Properties
How would you love to drive home to a great communal living that doesn't sacrifice your privacy? A unit at Oyarifa Park assures you of that and more. In this beautiful three-bedroom semi-detached townhouse, you can enjoy the thrill of living in a well-crafted home within a master-planned community. With careful attention to construction quality […]
Bask in unrivaled comfort and convenience in the most exclusive neighborhood in Accra.  Imagine the prestige, the status checkmark, and the ultimate living experience a modern 5-bedroom villa offers you. Sounds good? Reach out and grab a unit at Harmonia Villas, Cantonments. Sited to allow you to take advantage of the best of Accra, this […]
Make a statement in the Oyarifa Park community with the top-of-the-line four-bedroom semi-detached townhouse.  In this thriving community, bigger is better. And the shiny four-bedroom units assure you of bigger. Bask in the thrill of not one, not two, not three, but four lovely bedrooms. And then add the living room, a kitchen, and dining […]